Among all the Chinese Solids Control
suppliers, even commented by its peers in this industry, GN Solids Control has
a good reputation, because since its establishment several years ago, GN has
been determined to provide the oil and gas industry the best quality equipments
and most efficient solutions and to stand an good example for Made in China.
Now, GN Solids Control became the second
to none solids control company and the main reasons are as below:
1. GN always catches up with the newest
technology and GN R&D team always innoviate new designs per end users'
suggestions and apply the designs onto equipment quickly.
2. GN uses the top and reliable material
and parts, like the steel, GN uses the national standard steels from big steel
companies. The bearings and oil sealing, GN use SKF,
NSK, FAG and SOG. Only good material can ensure the good products.
3. GN is serious about after-sale service, like
the free of charge first time commissioning for main equipments, and for after
sale services, like spare parts, GN always has spare parts available in stock
and can do on line diagnose in case of troubles.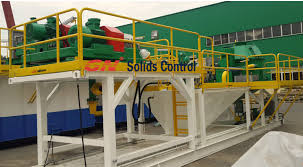 When talking about the real performance of
the equipment, the evidences from the clients who use them are more convincible
than those from the manufacturer. There are feedbacks from some of GN clients:
1. Baker Hughes, one of the largest Oil
Service companies in the world, choose GN as its solids control supplier in
China, and ordered 4 sets of complete GN drilling
cuttings waste management systems to use in their Russian sites. And they
are giving good feedbacks and comments. You can see their jobsite working video
here:
2. An Nigerian drilling company, they
visited all China main solids control suppliers before ordering, and finally
chose GN for long term cooperation and use GN's centrifuges, vertical
cuttings dryers and pumps and etc. They are foreign companies in Nigeria,
they have to strictly obey all the regulations for protecting the environment,
and GN's equipment and solutions helped them a lot.
3. other clients, like Scomi Oiltools, also
an international company for oil service, and some European companies, and etc.
Same equipments system is also working on Shell's jobsite, see jobsite video
here.
Related Posts