Hebei GN Solids Control Co., Ltd is the top
manufacturer of solids control equipment and leading manufacturer of drilling
waste management equipment in China, being the first API certified in China and
the first developed vertical
cutting dryer in China. Because of its leading role in solids control and
waste management technology, Hebei GN Solids Control Co., Ltd has exported to
over 60 countries and occupied the largest portion in the international market,
thus achieving a famous brand GN Solids Control.
Certainly, Africa especially Nigeria is a huge market for GN, and now around
100 sets decanter centrifuge are operating in Africa for solids control.
Recently, our sales team are now in Nigeria doing commission service for 3 sets
drilling
waste management equipment on the drilling site.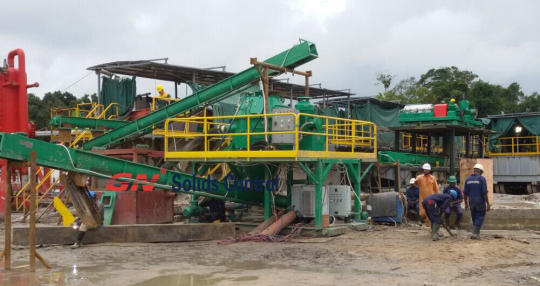 GN main product line of drilling waste
management includes high G shaker, vertical cutting dryer and decanter
centrifuge. GN high G
shaker can reach to max 8.0 G force because the screen bed is made of
stainless steel and the whole deck is heat treated. GN vertical cutting dryer
can reach to a 750 G force at a speed of 1200RPM so as to dry the oil based
drilling cutting with a oil content at around 5%. GN decanter
centrifuge is to treat the liquids discharge from high G shaker or the
vertical cutting dryer to make more clean fluids return back to active system. Beside
singe drilling waste management equipment, GN Solids Control also supplies
complete drilling waste management system with the combination of vertical
cutting dryer and decanter centrifuge on a skid mounted with little mud tank. GN provides 2
standard model of drilling waste management system for customers' option, and
also customized drilling waste management systems are available in GN.