In this article,
we will continue to introduce the key features with GN's decanter centrifuge.
 Easily adjustable fluid outlet on the drum;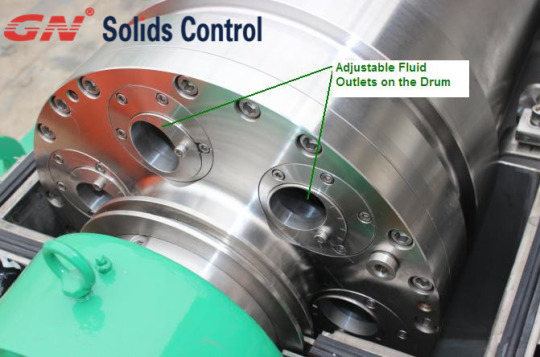 Sometimes
in order to change the drying degree of solids or clarity of liquid, the size
of fluid outlet on the drum needs to be changed by customer.
With
GN's centrifuge, there are 6 fluid outlets at the big end of the drum and there
is a cover plate mounted on each outlet by bolts. It just needs to loosen the
bolts and angle the cover plate and the outlet size could be changed easily.
 Feeding fluid from the big end of centrifuge; 
With
all GN's centrifuges, the drilling fluid goes into the centrifuge from its big
end. Compared with feeding fluid from the small end of centrifuge, on some
extent it will improve the working efficiency by feeding fluid from the big end
of centrifuge.
Parts from world-famous suppliers;
1.The
bearing is 1 of the most important parts for the centrifuge. With GN's
centrifuge, all the bearings are world-famous brands like SKF (Switzerland
brand), NSK (Japan Brand), FAG (Germany Brand).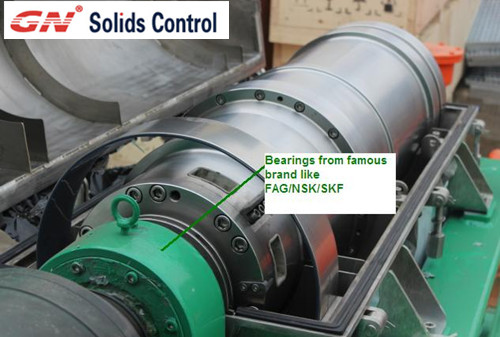 2.
All the electrical components used in the electric cabinet are also from famous
brands like SCHNEIDER (France Brand), SIEMENS (Germany Brand), CHINT (China
Brand), ABB(Switzerland Brand).
For
example, for the inverter of GN's variable speed centrifuge, it is from ABB
Group. 
By
adopting these high-quality parts, GN guarantees to provide the best centrifuge
with perfect work performance and longer life to all the customers from the
world. 
Explosion-proof property;
1.
Exd Standard;
2.
Positive Pressure Type;
Both
the motors and electric cabinet with GN's centrifuge get through the IEC and
ATEX certification and could meet the explosion-proof requirement in developed
countries.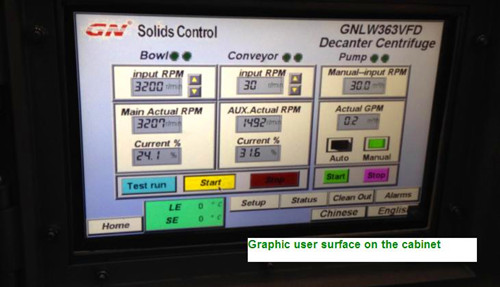 For
the electric cabinet of GN's variable speed centrifuge, it has a graphic user
interface and is PLC intelligent control, which could achieve centrifuge's
self-protection and guarantee its most effective work.