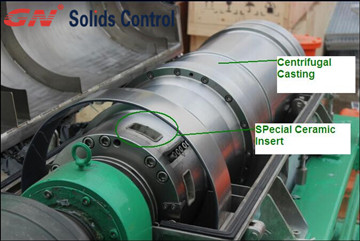 In this article, we will mainly introduce the key features about the
centrifuge manufactured by GN. 
1. From minimum 40GPM to maximum 484 GPM, GN's Centrifuge could meet
the treatment capacity requirements in different industries. Like oil & gas
drilling industry, HDD & CBM industry, water well & geothermal well
drilling, industrial waste water treatment, etc. 
2. Besides, fixed speed & variable speed, standard configuration
& high configuration are also available and provide different options for
the customer.
High-class raw
material and manufacturing process
1. Drum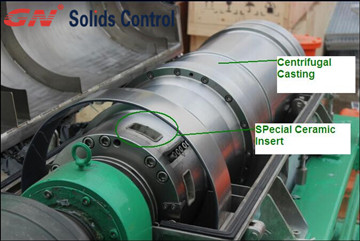 1).As 1 of the core parts of centrifuge, some company adopts the
manufacturing process of sand casting or solid-solution treatment. But the drum
of GN's centrifuge is made from S304 or duplex 2205 stainless steel by
centrifugal casting, which could guarantee the drum rotates steadily at a
higher speed and gets a longer life. 
2).The solids
discharge ports on the drum and the fluid ports on the helical pusher are
protected by special ceramic insert.
2. Helical Pusher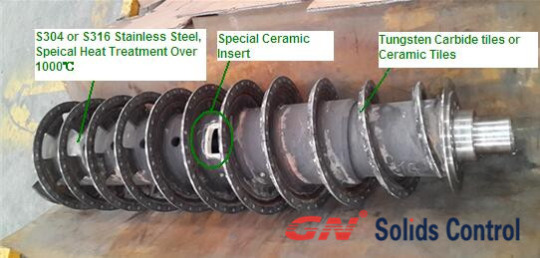 1).The helical
pusher of GN's centrifuge is S304 or S316 stainless steel. By special
solid-solution treatment over 1000℃, the helical
pusher get a higher strength and longer life. 
2).Besides, as the
helical pusher is used for pushing the solids continuously when working, the
wear of the pusher will be serious if no protection. There are special Tungsten Carbide tiles or Ceramic Tiles fixed around the
edge of pusher for protection. The tiles have long life and are easily for replacement.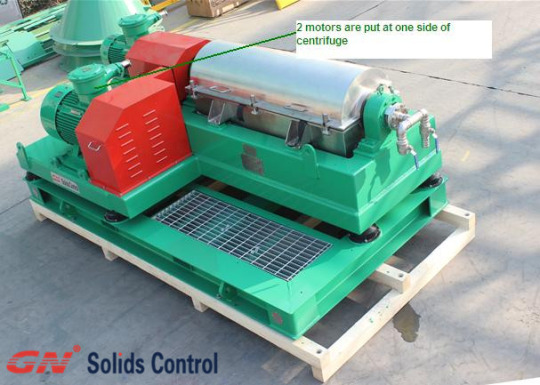 1). Usually, there are
2 motors (primary motor and secondary motor) equipped with each centrifuge. Compared with the
centrifuge made by some company, GN's centrifuge has a much more compact structure,
as the 2 motors are installed at the same end of centrifuge, which also gets a
bigger space and facility the maintenance.
2).Besides,
the secondary motor connects directly with the gear differential so that the
belts are also left out.