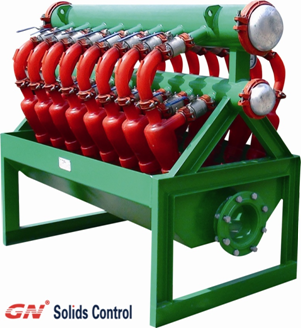 Desilter, which is
another kind of solids control equipment for treating the drilling fluid. In
this article, we will mainly introduce the Desilter made by GN Solids Control. 
Actually compared
with the desander, the desilter has the same working principle, similar
structure and different configurations for customer option.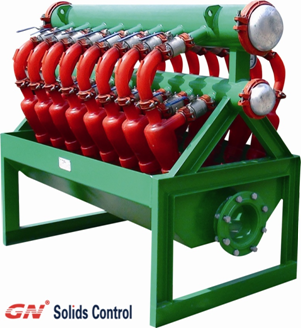 Usually desilter
is matched together with the shale shaker and desander and used for doing the
3rd-stage separation with the drilling fluid. 
Most of the big
sizes of drilling cuttings over 40μm will be separated after being treated by the shale
shaker and desander. In next step the drilling fluid goes into the desilter and
most of the solid particles over 20μm are separated out from the fluid and the drilling
fluid become much more clear. 
The main part of desilter
is also the hydrocyclones, but the size is different with the desander's. Each
hydrocyclone used on GN's Desilter are 4 inches and its standard treatment
capacity is 20m³/h. Usually 8 units, 12 units or 16 units
of hydrocyclone are standard configuration on GN's Desilter, the corresponding standard
treatment capacity is 120m³/h, 240m³/h and 360m³/h. It is also customized and the customer could choose
specific quantity of hydrocyclone for different treatment capacity. 
In most of the
time the desilter is recommend by GN Solids Control to be combined together with
1 shale shaker (the desilter & shale shaker AIO), as the separated solids
particles could be further dried by through the shale shaker's screen and the drying
effect could be better, especially for the weighted drilling mud.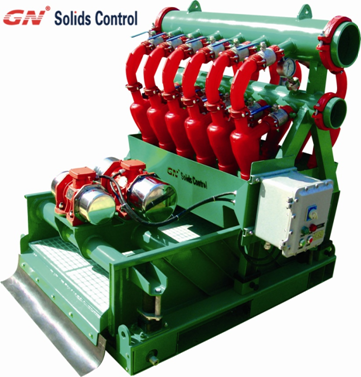 Sometimes,
the customer needs the desilter, shale shaker and desander to be combined together
and turned into an all in one machine because of being limited to the space,
Now GN has the "Mud Cleaner" for customer option. 
Finally,
if you want to know more about GN Solids Control, welcome to visit GN's website
and contact us. http://www.gnsolids.com/