1.India IMMK Chemtech and oil sludge treatment project introduction
1.1 India IMMK Chemtech IMMK Chemtech Private Limited  is a new chemical technology startup company providing innovative recycling technologies and Process Intensification based technology solutions. We are now developing a techno-commercial bid for a robotic – mechanised crude oil tank cleaning and sludge processing tender.
1.2 In this connection we are looking for a three-phase (sludge, water and oil) centrifuge separator. and we understand this equipment is within your product range. The sludge handling capacity shall be 60 M3/day. The compositions and properties of crude oil sludge vary and it generally contains cyclo-alkanes, poly-cyclic aromatics, asphaltenes and other refractory hydrocarbons with water and heavy metals.
1.3 Typically the sludge consists of Oil 40-45%, Water 3-5% and Solid residue 50-55%.   The residue/ solid waste produced for disposal shall contain less than 10.0 wt% as oil in solid waste and recovered oil should have less than 4.0 vol% Base Sediment and/bottom solids and/bottom sludge and water (BS&W). The treated water shall consist of Oil less than 100 ppm, the oily water treatment equipment could be offered optionally if it is within your product range.
2.GN 3 phase decanter centrifuges features and specical tips.
A.Screw Conveyor Material: Duplex Stainless Steel SS2205
B.Material Distribution Nozzle: : Tungsten Carbide insert
C.Screw Conveyor Wear Protection: Tungsten Carbide Tiles
D.Differential Speed: Adjustable according to conditions
E.Bearing: SKF or Japan NSK Brand
F.Bowl Material: Duplex Stainless Steel SS2205
G.Solids Discharge port: Tungsten Carbide insert
H.Bearing: SKF or Japan NSK Brand
J.Gearbox type: planetary wheel type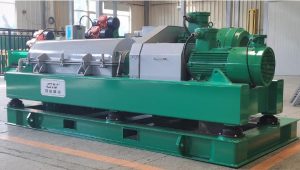 GN 3 phase decanter centrifuge is mainly designed for Solid-liquid-liquid three-phase separation of materials. With our over 10 years of experience in the separation industry, it is the advanced type machine for 3 phase separation. It is designed for 24 hours continuous and smooth operation throughout the day. It is mainly composed of driving system, decanter bowl, screw conveyor inside the bowl, cover box, skid and VFD control panel. To ensure that the separation process can take place, the solid phase must be the specifically heaviest phase and the two liquid phases must have different densities. GN 3 phase decanter is widely used for oil , water, solids separation industry.