Shale shaker plays an important in the complete set of solids control system as the first stage treating machine. GNZS series shale shaker is dual motor driven and linear vibration with high frequency specially designed for particles removal from drilling fluids for oil and gas drilling, minig and slurry separation industry. GN three models shale shaker are similar in structure, but different in screen quantity and dimension. GNZS752E is two-panel screen shaker, GNZS703E is three-panel screen shaker, and GNZS594E is four-panel screen shaker.  The screen support structure's stainless steel construction results in maximum durability prolong life. Easy to install, oil-resistant bed cushions provide an all-important complete seal with no hardware required.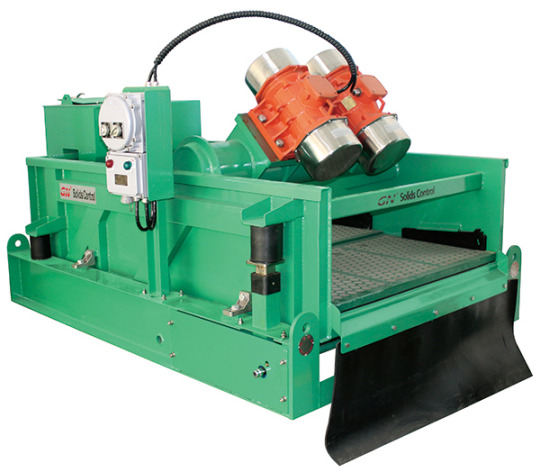 One of distinguishing feature of GN shaker is the patent wedged screen locking device which make the screen replacement easy and fast. The structure is a special type use tension wedge to fix screen. The first time to fix screen, you should inspect the screen dimension. Firstly put the strip, then put screen, and push the wedge evenly on the two sides of the deck with hamper to tight the wedges. During operation, when screens broken or needed to be replaced, get the wedge out and then bring out the screen and check if the rubber strip broken or not, then put the new screen on the shaker deck and tension it steadily. 
GN shale shaker can not only used in solids control systems but also can be used for drilling waste management normally water-based mud cuttings. GN also supplies high G shaker which is specially designed for water-based mud cutting treatment. Last week, GN delivered 8 sets high G shaker and 8 sets decanter centrifuge for Sinopec's not pit drilling as the drilling waste management machines. This year, many sets of GN drilling waste management machine sold.