Dewatering unit is also called flocculation unit, it means to flocculate the extra fine particles with the help of 2 or 3 chemicals into larger ones for further separation by the decanter centrifuge. In many regions and countries in the world, only a solid control system and a drilling waste management system are not enough to be a complete zero discharge closed loop without the help of the dewatering unit.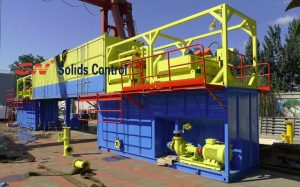 In this case, the dewatering unit is used for following applications:
Alongside the drilling rig systems, the dewatering unit is used for separating out the extra particles from the solids control system when the drilling mud in the solids control system has been used for several times and there are lot of extra fine particles smaller than 2 microns.
In a mud plant or mud station especially for the dewatering project. In this case, the drilling mud is storage in some tanks waiting for being treated by a dewatering unit, but this place is not alongside the rig.
There are still some other applications the dewatering units could serve:
Oil sludge project, in such project, the condition of mud is similar as above mentioned mud for the dewatering units, the sludge is of high viscosity and the solids particles are very small. So the operators need to add some chemicals to merge the particles into larger ones. This is a jobsite working video of GN mud mixing system in this case.
In previous projects, GN dewatering units are also suitable for mud tank cleaning projects, with some auxiliary equipment and devices.
In some countries, when the environment standard is high, some clients even use dewatering unit for TBM project.
GN has some standard configuration of dewatering units, mostly ,the dewatering unit is installed in a 20 ft container and could be transported as a 20 ft container. And it is designed for 2 chemicals. According to clients' customized request, there are more designs available.