As an expert of solids control system for oil and gas drilling and drilling waste management system, GN solids control designed a new system with dewatering unit for a Singapore client. Recently, GN engineer just came back with the working video of this dewatering and drilling waste management system from Singapore.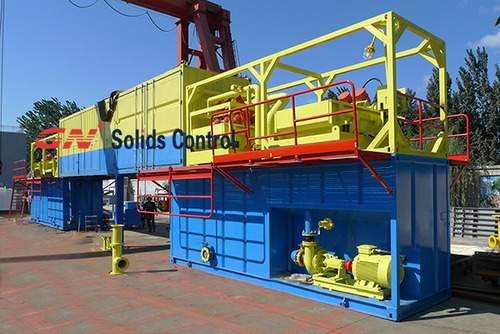 Firstly, the water slurry in TBM will be treated by a double deck shale shaker: the upper shaker deck mounted with 2mm opening screen is to separate coarse solids; the bottom shaker deck with API 20 screens. After processed by the shale shaker, the slurry will be pumped into the desander, particles over 45 microns be separated out, meanwhile there will be an underflow shaker to dry the down flow stream with screen of API 200. Before slurry being delivered to the decanter centrifuge there will be a stream of flocculant prepared by the dosing system combining with the slurry, and then the mixed slurry will be delivered to the big bowl decanter centrifuge for dewatering process. The fine solids will be separated, leading to clean water and dry solids. Working video is available in the below link: http://gnsolidscontrol.com/video/gn-solids-control-drilling-mud-dewatering-system-working-video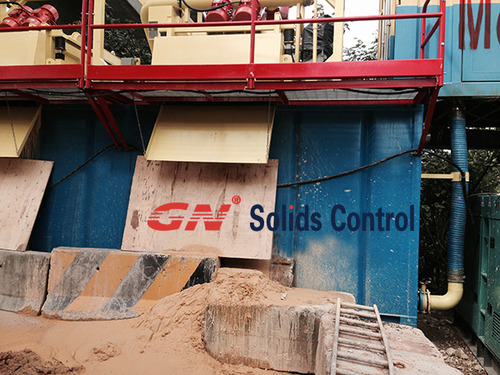 GN solids control is qualified to provide all solids separation equipment and system, normally including the below steps:
Step 1: over 100 microns particle be separated by shale shaker;
Step 2: 50-100 microns be separated by desander;
Step 3: 20-50 microns be separated by desilter;
Step 4: 2to10 microns be separated by medium and high speed decanter centrifuge;
While, if for ultra-fine solids between 0-2 microns, chemically enhanced centrifuge needed.
GN solids control always tries its best to find solutions for its client according to there requirements and problems, that why GN solids control system is well accepted by its customers.