1.Korean Waste food treatment plant Project introduction
First crushing and Screw Press separate most of solids. After liquid is going to 3 phase decanter to separate oil and rest of solids.Makeup of the waste (%wt oil, water and solids):6% SS and 5%~6% oil, the rest is water.After Screw press process there is no big particles.Volume of waste to be treated capacity is 16ton/h and operating 8 hours per a day.This plant is new there is no 3 phase decanter. New plant they want to install 3 phase decanter for removing oil. Many new waste food treatment plant is going to install 3 phase decanter since some years.Delivery time to customer is September 2023.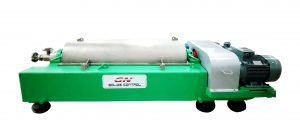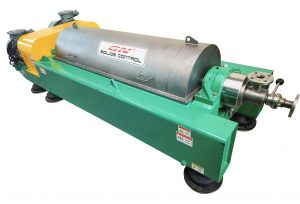 2. GN 3 Phase Decanter CentrifugeIntroduction and advantages
GN 3 phase decanter centrifuge is mainly designed for Solid-liquid-liquid three-phase separation of materials.With our over 10 years of experience in the separation industry, it is the advanced type machine for 3 phase separation. It is designed for 24 hours continuous and smooth operation throughout the day. It is mainly composed of driving system, decanter bowl, screw conveyor inside the bowl, cover box, skid and VFD control panel.To ensure that the separation process can take place, the solid phase must be the specifically heaviest phase and the two liquid phases must have different densities. The main difference between the 2 phase decanter and 3 phase decanter is that the 3 phase decanter not only separate the solids but also separate two phase of the liquid. GN 3 phase decanter is widely used for oil , water, solids separation industry.
2.2 Advantages and special features
2.2.1 Stainless Steel VFD Control Panel
1.Excellent corrosion resistance and long service life
2.Minimum IP55 protection level meets outdoor use demand.
3.The positive pressurized explosion-proof control panel can be made according to requirement.
2.2.2 Famous brand electric components
1.VFD from Yaskawa, ABB or Siemens series
2.PLC and touch screen from Siemens or other famous brands.
3.Circuit breakers and other components from Schneider or other famous.
4.Common DC (Direct Current) bus energy feedback braking is adopted to achieve the purpose of energy saving
2.2.3 Automation and intelligence
The Constant Torque control system can be realized according to the demand. 2. The complete monitoring and alarm system can meet the requirements of bearing temperature rise protection, vibration monitoring and protection, overload protection, etc. 3. Control and display bowl speed and differential speed. Monitor the current of main motor and back motor. 4. Automatic flushing and dosing control can be equipped according to customer requirements