Mud tanks are used very often on drilling site to store the drilling fluids and to be used as the base to locate the drilling fluids recycling equipment like shale shaker and decanter centrifuge. GN solids control is a manufacturer specially for drilling fluids recycling equipment, thus the mud tank is one of GN's main products.
So long you want to reserve the drilling fluids on site, and then you will need mud tanks. The size and structure of the mud tanks would be various according to the drilling depth and drilling type. Some drillers have their own mud mixing system with the rig, thus they can do the mud recycling job onsite, which is very convenient and cost saving. Some other drillers will collect the used drilling fluids and send to a mud plant for separation, after large size cuttings removed, the drilling fluids will be brought back to the rig for reuse. Trailer mounted tank is an ideal choice for these drillers as the drilling fluids could be collected in the tank and very fast to deliver to the mud plant. GN is not good at making such type mud tanks.
While most of GN's mud tank are skid mounted that could be lifted and dragged on site by crane or truck. This type mud tank is better to be put on site permanently with the rig, whenever the rig would be moved; the mud tanks would be moved.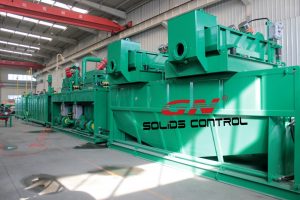 For some drilling site with limited space and the driller have the requirements for move the mud tank from one site to another frequently, GN proposed the mud tanks with hydraulic jack-up leg system. At both ends of the mud tank, the jack-up legs are installed to rise the whole tanks and even the equipment on the tank. The legs can open that the flat bed trailer can back in, and then the legs will fall down until the tank be put on the trailer smoothly. At this time, the mud tanks could be transported to other sites.
GN has made mud tank with jack-up legs for many customers coming from oil gas drilling and no dig drilling industry. This is also a very good option for fast moving mud tank design.