In drilling mud solids control system, the
mud agitator is one type of very important equipment widely used in the active mud
storage tank to make the solids suspension to avoid settlement down to the tank
bottom. As a leading manufacture for solids
control equipment, GN solids control provide the mud agitator from 4 hp to
30 hp, the bearing used are from FAG and the oil seal is from SOG. GN's mud
agitator is direct connection type for the motor and gear box, which makes the
structure more compact.
How to choose the right model of GN's Mud
Agitator
By choosing the suitable model of the mud agitator, GN always
needs know how the inner dimension of the mud tank or mud pit is. Thus GN's
engineering team would propose the right agitator shaft length and the size of
the impeller. If the mud density could be provided, that would much helpful for
GN to suggest the horse power of the motor. Generally, the heavy much may
request a high power.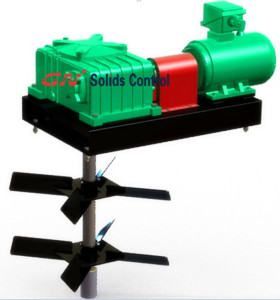 How to Install the Mud Agitator
GN's mud agitator always has the mounting
skid on which the gear box and motor are installed. This design makes the mud
agitator unit more stable if it is installed on the mud tank.  GN's mud agitator unit will be divided into
pieced for easy delivery. Always, the gear box and motor will be as assembling
package for delivery. The shaft and impeller will be disassembled and packed in
other crates. When install the mud agitator on mud tank, the gear box and motor
assembling is lift and put on the tank top where there has already a hole for
agitator shaft insert into inside of the tank. The shaft was straightly and
vertically bolted to connect with the gear box. For the shaft longer than 6",
the agitator unit is provided with tank bottom stabilizer to fix lower end of
the shaft to prevent vibration during working. GN can provide the agitator with
one and tow impellers as per the tank depth. The location of the impeller on
the shaft is determined as a height from the tank bottom to the impeller. GN recommends
the distance 0.75 times of the impeller diameter. For example, a 20" impeller should
be mounted 15" above the bottom. GN recommends straight impeller blades for tanks
under 5' deep and canted blades for deeper tanks. If dual impellers are
desired, straight blade should be mounted on the bottom and the canted blade
impeller is installed at a point about two-thirds distance above the tank
bottom.
Any request
on GN's mud agitator, welcome contact with us for a
quote and more information.
Related Posts