Project introduction
Customer plan to use humprey spiral and then shaking table after High Frequency Fine Vibrating Screen
And for the fine material, they plan to use advanced separator from GN to separate the fine tin in tailing.
GN High Frequency Fine Vibrating Screen introduction
2.1GN High Frequency Fine Vibrating Screen is a product developed by GN company, Using the principle of two-degree-of-freedom resonance, a single excitation source(dual imported vibration motors) is designed to drive the whole machine to realize linear vibration.
2.2The equipment has the advantages of large screening area, adjustable screen box angle, compact structure, excellent performance and high cost performance.
2.3 The equipment has unique vibration mode,energy saving,high screening efficiency, large processing capacity, advanced  technology, simple structure,stable and reliable operation, and is currently the advanced equipment in the field of fine-grained material screening.
2.4.This series of screen machines can use flexible polyurethane screen mesh,with high opening rate(28-45%),and the average life span is more than 6months.
3.High Frequency Fine Vibrating Screen Application
This series of equipment is suitable for wet or dry screening,classification and dewatering treatment of fine-grained materials in beneficiation, coal preparation and other industries.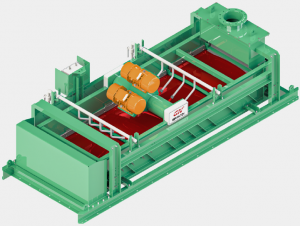 Working Principle
The screen box assembly of the vibrating screen is arranged in a single layer and multiple sections. The working method is to use two counter-rotating vibration motors as the vibration source to force the screen mesh fastened in the screen box of the screen machine to receive the overall linear vibration transmitted by the screen box assembly. This vibration is transferred to the over-screen material through the screen mesh, so as to achieve the purpose of vibrating screening.
Polyurethane Screen Mesh Features
Flexible polyurethane screen is a kind of high molecular polyurethane elastomer with excellent physical and mechanical properties: high strength, high elasticity and high wear resistance. After repeated tests, the excellent formula is determined, and the product is manufactured with precision mold processing technology and unique advanced molding technology. This product is suitable for metallurgical mining, coal, non-ferrous metals and other industries.